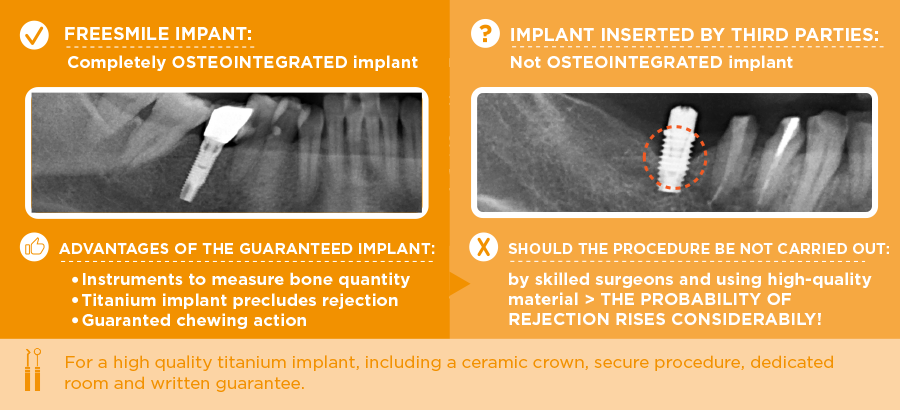 Guaranteed: you will smile again and chew just as you used to do.
We consider a titanium implant an excellent solution in terms of stability, safety and appearance.
When the amount of bone is sufficient, this is the solution we recommend to our patients.
With a simple procedure, we insert a titanium pin into the bone. This fixture will became the root for a single tooth or the support for a bridge.
At the Freesmile Dental Center we really take people's quality of life as our priority. For this reason we carry out the procedure in a dedicated room, which conforms to the highest standards of hygiene and sterility. In this way bacterial contamination, which is the main cause of infection and implant failure, is reduct.
Furthermore, by using a high-quality, biologically inert titanium, we protect you from the possibility of implant rejection. Before applying final teeth we wait for the tissue to completely heal and the implant to be osseointegrated.
Very quickly you will recover a perfect chewing function!
Our written guarantee that the procedure will be a complete success is further proof of the highest professional standards to which we work. If the implant should come loose within two years it will be replaced at our expense, or your payment may be refunded.
From 2006 through to today, the results obtained have delighted every single patient.
Advantages of the Guaranteed Freesmile Implant:
at the Freesmile Dental Center we have instruments to measure the quantity of bone necessary for placing an implant
the titanium implant precludes any type of rejection
the result is long-lasting and is guaranteed in writing
correct chewing action is restored
Freesmile price:
For a high-quality titanium implant, including a ceramic crown, through a secure procedure in a dedicated room and with written guarantee: € 1.500, (payable over 12 months at zero interest).
Book your First Freesmile Visit online !