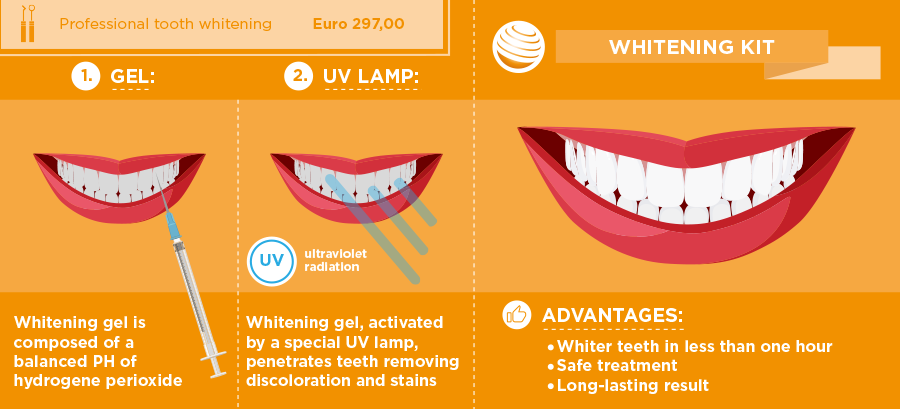 Do you want the whitest of white teeth? If you do, avoid those do-it-yourself remedies, which could do lasting damage to tooth enamel!
Place your trust in our Dental Center, and in a flash you'll recover the confidence of a dazzling smile.
The Freesmile dentists
 work only with the most advanced technologies and materials of certified quality.At the 
Freesmile Dental Center
 we use a Professional Whitening Kit. Gel is composed of a balanced pH of hydrogen peroxide which, activated by a special UV lamp, delicately penetrates the teeth, removing deep discoloration and stains, without ruining tooth enamel. The result can last up to a year, and the treatment can be repeated a number of times. You'll never be without a smile on your lips.
Advantages of Freesmile Dental Whitening:
whiter teeth in less than an hour
limited cost
safe treatment
Useful information:
The treatment only applies to natural teeth; if the natural colour is very intense, the whitening may not give the results hoped for and a number of sessions may be necessary.
Teeth can react with sensitivity. These symptoms normally disappear in 2-3 days. In the case of patients who already suffer from dental hypersensitivity, the discomfort might be considerably increased.
In the days following the treatment it is advisable to avoid imbibing nicotine, wine, coffee and in general foods or drinks that might stain the teeth.
Freesmile price:
For a professional whitening of the teeth, with the whitening system: € 297.