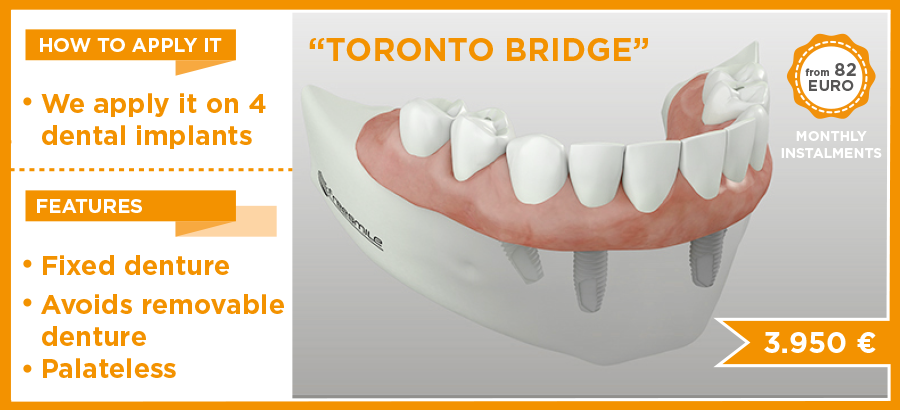 Enough With Dentures: Permanent Teeth on 4 Implants
Toronto Bridge is an convenient and non-invasive solution that fully restores a complete arch with permanent teeth using just 4 or 6 implants.
The All on 4® technique requires only 4 pure titanium implants to be inserted into the bone (the All on six requires 6). After the process of osseointegration (3 months for the lower arch and 6 for the upper), the Toronto Bridge prosthesis will be secured onto the implants.
Toronto Bridge is a dental prosthesis made of composite resin and can replace up to 10-12 teeth. It was designed and developed by a group of Swedish researchers led by Prof. Branemark who presented it to the international scientific community at the World Dentology Conference held in Toronto in 1982.
At the Freesmile Dental Center we are offering a Toronto Bridge for only 3,950 Euros, about 50% less than competition. We perform surgery in a dedicated operating room and follow strict hygiene and sterility standards. Immediately after surgery we apply a temporary mobile dental prosthesis until the permanent implant-supported prosthesis is applied.
Advantages of the Freesmile Toronto Bridge:
It's less expensive than other solutions because it carries the maximum number of teeth with the minimum number of implants;
The prosthesis doesn't move while chewing;
It's ideal for full arches with no teeth and can replace removable dentures;
It saves time because all permanent teeth can be placed on one single prosthetic device in a few session;
Surgery is less invasive.
Freesmile Price:
For a resin and composite Toronto Bridge screwed onto 4 implants, secure surgery in a dedicated operating room and written guarantee: Euro 3,950 (payable in instalments as low as 82 Euros).
Book your First Freesmile Visit online!